Email this property listing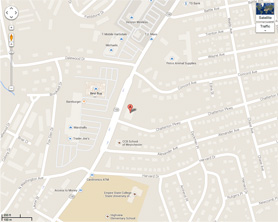 Description:
Set on approximately 2 acres, the property consists 18,090 square feet of warehouse space and 6,969 square feet of office space.

Property Details:
Type of property:

Warehouse / Office
Total Space:

25,059 Square Feet
Space Available:

3,600 square feet - office space
Rent:

$14.00 / square foot
Utilities:

All utilities are located unerground with electricity provided by NYSEG. Offices have individual electrical services & industrial units draw off of the main panels ranging from 200 to 600 amps. Water & sewer is provided by the Town of Yorktown. There is a 2,000 gallon propane tank on the property.
Parking:

On site
CAM:

N/A
Special/Unique Features:

4 Tailgate Loading Docks

9′ – 12′ Ceiling Heights

I-2 Planned Light Industrial
Location:

Convenient location close to all Town amenities. Close proximity to Routes 118, 202 & Taconic State Parkway. Approximately 38 miles north of midtown Manhattan.