This Year's Hottest Cultural Trend is Flip Phones
Take your $600 smartphone and throw it straight in the trash!  Have you ever wanted to externalize your frustration with how connected modern technology is by pointedly ignoring what our tech overlords want us to buy? Then you'll be delighted to learn that this year's hottest cultural trend is none other than the humble flip phone, an object you can probably find forgotten in a junk drawer at your parents' house (with no charger, of course).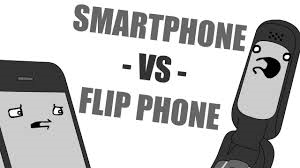 Thanks to widespread 1990s nostalgia, and the ever present dread of knowing how tech companies hold all the data of our lives, the obsolescence of the flip phone has turned into a sort of modern day security blanket. With all of the coverage these old timey gadgets have gotten so far this year, it seems like everyone with even a slight dislike of technology is thinking about it.
On the one side are the folks who embrace the flip phone solely as a means of socio-political resistance. "The flip phone is the new protest statement," declared one article that recently appeared in several newspapers including The Seattle Times. "I don't need that phone. I have everything I need without it," wrote Katie Reid for The Baltimore Sun in a March op-ed about wanting to discourage her daughter from relying on smartphones. In January, writer Kathleen Davis wrote a piece for Fast Company called "This Is What It's Like To Not Own A Smartphone In 2018." "Being cut off from push notifications when I'm not at my desk hasn't made me feel uninformed, but it's probably helped me keep a shred more of my sanity," she wote. Deryn Isaac, writing for Portland alt-weekly Willamette Week that month, shared similar feelings: "Since I made the switch to a brick phone, I have felt refreshingly less connected."
For others, it's just the new way to be cool. Daniel Day-Lewis and Kim Kardashian-West were both recently spotted using flip phones (Day-Lewis in low key black, Kardashian-West wielding one shaped like a pink Ferrari) and billionaire Warren Buffett has no desire to ever let his go.
 Luckily, it seems phone manufacturers are poised for the new demand for old-timey cell phones. Redesigned retro Nokia phones are on the market, as well as keypad phones with software that offers some smartphone capabilities. Meanwhile, this February Lenovo (owners of the Motorola brand) suggested it could be bringing back Razr phones.
While flip and bar phones are still widely used in many developing countries, their resurgence in the U.S. is all about making a statement. That statement, like most faddish purchases, is I'm better than you. Can a flip phone really offer peace of mind and more genuine connectedness in this crumbling world or not? Who knows? But either way, this is the year to do it. By 2019, it'll just look like a joke.
Culture 2018