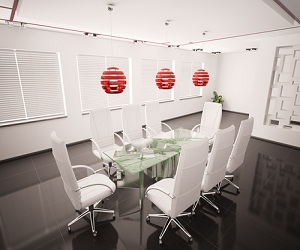 Is your office landscape prepared to take on another year of sustainability upgrades and productivity initiatives?  Simple changes can impact your bottom line and create an aesthetically pleasing environment for employees, clients, and visitors.
Here are 5 key tips to approach an office landscape redesign:
Look good on a budget – Office design can project luxury without going over budget. For example, selecting a laminate instead of veneer flooring, and vinyl rather than leather seating, can create a high-impact look that's still budget-friendly. Also, by choosing connected seating versus freestanding chairs in waiting areas, businesses can save up to 15% per chair.
It is easy being green – Sustainability remains an increasingly hot topic. Companies can help fulfill "green" goals and prioritize office health by using environmentally preferable furniture and fabrics. When making purchases, it's important to look at the percentage of recycled and renewable content, and also look for relevant environmental certifications, such as GREENGUARD, Forest Stewardship Council (FSC) and more. In addition, including plants throughout the office literally adds a green touch.
Light it up – Lighting has the ability to impact mood and productivity. Rather than relying on harsh, fluorescent lighting, the incorporation of natural light can help bring the outside in. By also using adjustable LED lighting, companies can help improve worker visibility and save on energy expenses. The costs of LED lighting have also dramatically dropped in recent year.
Incorporate hybrids – For companies seeking to do more with less and/or maximize smaller spaces, hybrid furniture products, which serve multiple purposes, can help. For example, look at products like "mobile pedestals," which are filing cabinets with plush tops that also transform into visitor seating.
Keep it mobile – Typically lightweight and easy to rearrange, mobile furniture is gaining popularity. In addition to mobile pedestals, other furniture on wheels – including whiteboards, partitions and more – can help facilitate spontaneous brainstorming sessions and be easily rearranged afterward.